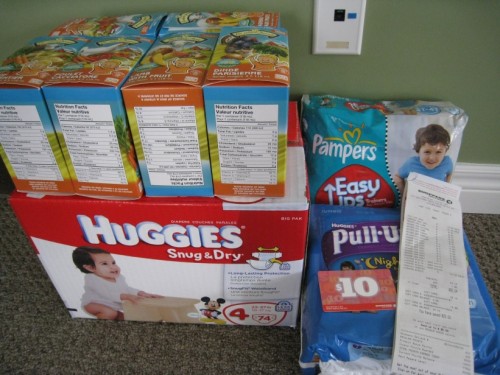 Alisa recently posted her Shoppers Drug Mart brag
All diapers are already on sale.
Pull ups $10.99 – 3000VIB points (I wish my $2off coupon hasn't expired…)
Easy ups $10.99 – $3 coupon + 3000VIB points
Huggies box $14.99 – $1 coupon + 3000VIB points
Mother hen baby food $8.37 (price applies if you buy more than 4, I had 6) – 6x$5 coupons
So, $8.37 – $5= $3.37 each, 20.22 for 6 Plus they had an offer of 200 bonus points WUB2, so 600 for 6
To be honest, I think that Mother hen is ridiculously expensive, but with all the offers it finally came to an acceptable price
Bottom line:
$55.04 for $78.04 worth of products that were already on sale.
9600 bonus points
Paid for it with SDM gift card (double the regular points )
And of cause I got the $10 savings card.
The points would be worth $17 at the highest regular redemption level plus an additional $10 savings card so Alisa earned $27 back on her purchase too.  Click here to see her full brag.