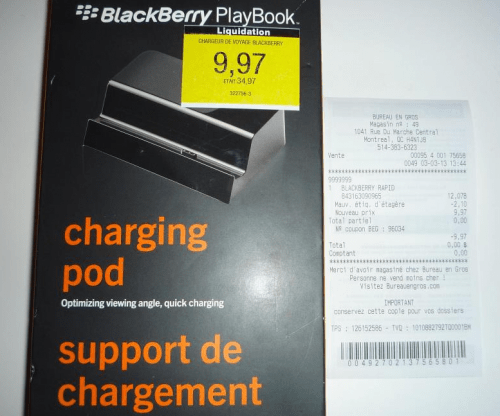 Unlike the rest of Canada, the Scanning Code of Practice (SCOP) is compulsory for Quebec stores and does include sticker prices.  Forum member couponmummy took advantage of this recently at Bureau en Gros, where she got this Blackberry Charging Pod for free when it was advertised at the clearance price of $9.97 (reg $34.97) and rang in at $12.07.
As many of you are aware, you get the item free up to $10 but they need to reduce the price of the item to the advertised price first.  So couponmummy got this item for free – even better, SCOP reduces the taxes to $0 also!
If you are not familiar with SCOP, check out our blog about it here and click here to read couponmummy's brag.
Did you know you can get paid if we feature your brag on the blog? Click here to read more.