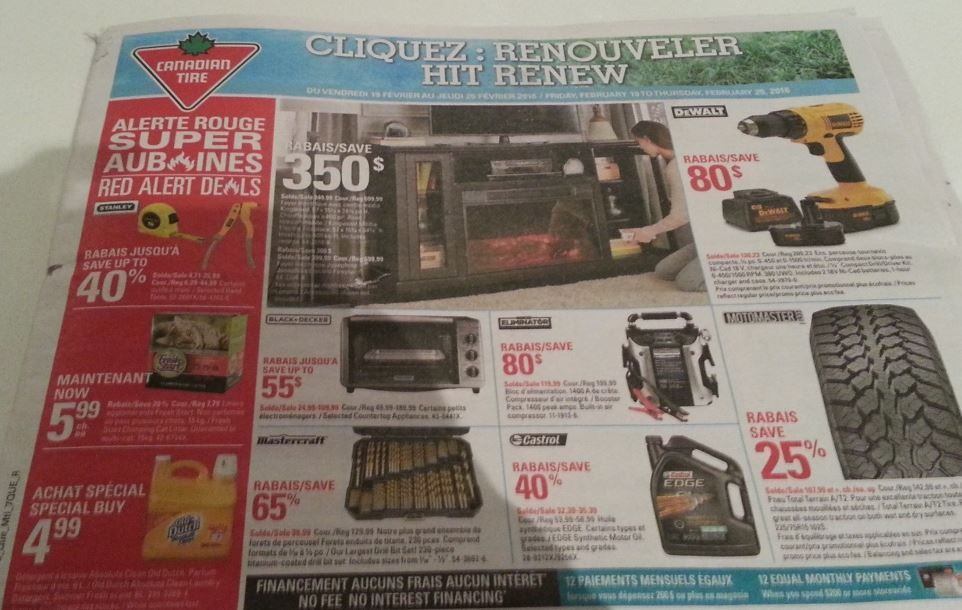 While many of the Quebec grocery flyers are valid only for stores within the Quebec borders, the Canadian Tire and Giant Tiger flyers are usually very similar across the country.
Canadian Tire flyer sneak peek February 19-25
Old Dutch laundry detergent jumbo formula $4.99
Fresh Start cat litter $5.99
Save 40% off select Kamik boots
Get 50x e-CT Money on select Finish products, bird seed, 77L garbage can, Yardworks tools, powerbars and dumbell sets.
The flyer has the usual deals for up to 70% off select kitchen items and the gas coupon is 12x Canadian Tire Money when you buy 40L or more of gas.  View the full flyer sneak peek here.
Giant Tiger flyer sneak peek February 17-23
Bravo pasta sauce $0.88
Jane's chicken $4.99
Crispy Minis $1
Black Forest hams $5.97
Clorox or Lysol $1.97
You can view Tioma's flyer sneak peek here