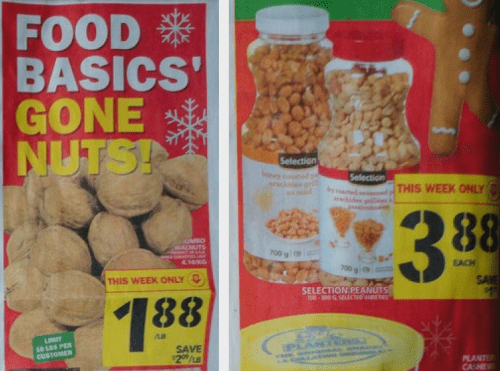 Food Basics really has gone crazy with the Crazy 8's flyer sales. It's not just a handful of items, but a whole catalog of low priced foods and household goods. This is the Food Basics flyer for December 10th-16th, so start checking off the things you need fast.
Click here to view the Food Basics flyer
Nuts N' Snacks-
Save $2.09 per pound on Jumbo Walnuts, now only $1.88
Save$2.61 on  Planters Mixed Nuts, now only $3.88 each
David Roberts Snack Tray or Variety Mix Pack,
Some of the best deals are on Meats-
Twin Pack Whole Chicken 2 for $12
Outside Round Rooast or Family Pack Steaks $6.88 per pound. Save $1.91 per pound
Boneless Pork Loin Center Roast, $3.88 per pound
There are some cheeses spread about the Food Basics flyer with big discounts-
Emma Parmesan Reggiano Cheese Wedge, $12.88 per pound. Save up to $7.11 per pound
AgroPur Oka, Anco Gouda or Vaudreuil Double Cream Brie, $5.88 each. Save up to $3.11 each
Black Diamond Cheddar Slices or Spread $2.88 each. Save up to $2.11 each.
And a couple of drinks to wash it all down with-
Ocean Spray Cocktail or Juice Blends and Dole Pineapple Juice 2 for $4.88.
Nestle Pure Life Natural Spring Water 24 packs, $2.88 each. Save $1.61
Food Basics December 10th-16th Flyer is packed with much more than can fit here. Be sure to stop by your local Food Basics and indulge in the Crazy 8's Sale!
Click here to view the Food Basics Canada flyer