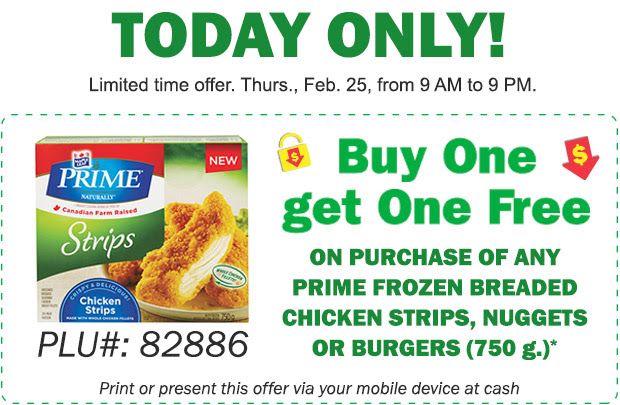 Stop by an Ontario Food Basics location today and save on select Maple Leaf products with this store coupon.  Print or show this coupon to get a buy one get one free offer on any Maple Leaf Prime frozen breaded chicken strips, nuggets or burgers.
These products are priced at $9.99 this week, so you will be able to get them for $5 and they will count towards the Maple Leaf offer for a free pack of Ready Crisp Bacon or Prime Stuffed Chicken when you buy three products.  There is a limit of one coupon per customer, so you will need to pick up a 3rd item for the manufacturer offer.  Maple Leaf canned ham and chicken are probably the cheapest at $1.25 each this week for Food Basics sales.
This sale is valid until 9pm tonight and is a rare coupon that they will accept digitally.  I hope this means that they will start to accept more digital coupons in the future so we do not waste ink on store offers or have to find flyers for their coupons.  Click here to get your coupon.