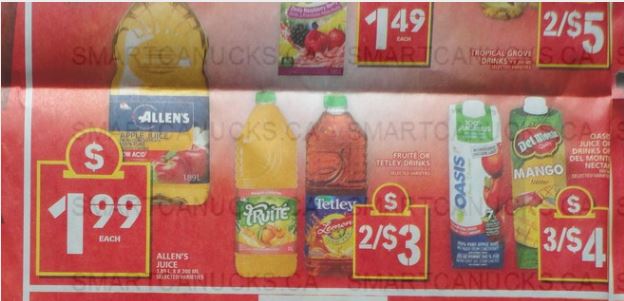 This week Food Basics Ontario has Allen's Apple Juice 1.89L on sale for $1.99. There is a printable coupon which is still currently available, that will allow you to purchase a certain variety of the apple juice for just 99 cents.
The 35% less sugar variety of Allen's Apple Juice 1.89L should also be included in the sale at this price. If you click the link below you can head over to GoCoupons.ca, where you can find and print a coupon for $1 off this type of juice. If you don't spot the coupon right away you may have to chose Ontario as your province, because it seems to default to Quebec as the province and you won't find it there.
I'm unsure how many of each coupon can be printed through a GoCoupons.ca account, so do let us know if you are successful in printing more than one.
Click here to view this offer in the Food Basics Ontario flyer.
Click here to print your coupon for $1 off the purchase of Allen's 35% Less Sugar Apple Juice.