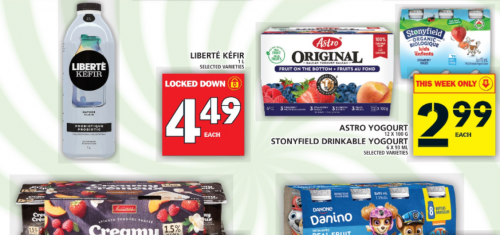 Beginning May the 26th at Food Basics Ontario, the Astro Original 12pk of yogurt is on sale for $2.99. There are a few different ways to get it for $1.99, and one of those ways is using a printable coupon that is still available through GoCoupons.ca.
If you visit GoCoupons.ca through the link below, you will find a printable coupon for $1 off the purchase of Astro Original Yogurt in either the 75og tub format or the 12x100g format. Print and use this coupon and pay just $1.99 for the 12 pack at Food Basics. If you would prefer, you also have the option of getting the rebate in the form of $1 cash back. Just keep in mind that you cannot use both the coupon and the cash back.
You might also have a tear pad coupon that was out a while back for $1 off the purchase of any Astro Original product. You can simply use this coupon if you have it.
Click here to print your coupon for $1 off Astro Original products.
Click here to view this offer in the Food Basics Ontario flyer.