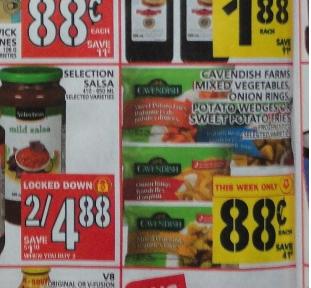 Do you have any of those $1 Cavendish coupons left? If you do, here is the perfect opportunity to use them beginning this Friday, October the 24th at Food Basics Canada. Cavendish Farms Mixed Vegetables, Onion Rings, Potato Wedges, and Sweet Potato Fries are on sale for only 88 cents. Use your $1 tear pad coupon and get these items for free. I believe the coupon expires at the end up the month, so clear some space in your freezer and use them up! As for price matching outside of Ontario, I'm not sure that Walmart carries these items regularly, so you may be out of luck with this deal.
If you do not have any Cavendish tear pad coupons left, or were not able to find any, you may still be able to get a good deal by using a printable coupon available through our SmartCanucks SmartSource printable coupon portal. We have a coupon you can print for $1.50 off when you buy two Cavendish products 600g or higher. I can't make out the weight of these products, but if they are 600g or more, use the coupon and pay only .13 per product. You may print this coupon twice per computer.
Click here to view the Food Basics flyer.
Click here to print the Cavendish coupon.