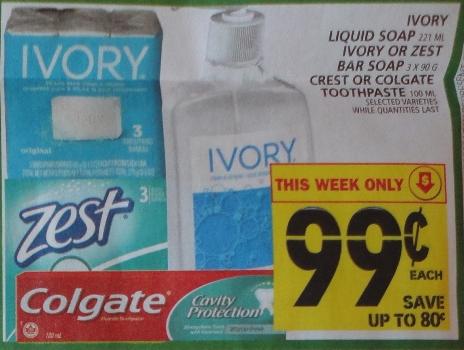 If you are looking to use up your Brandsaver coupons from the insert that expire August 31st, and possibly nab a couple freebies in the process, look no further than Food Basics Ontario. Beginning August the 22nd, until the 28th, Food Basics has the 3 pack of Ivory Bar Soap and sale for 99 cents. Use your save $1 when you buy any one Olay Bar, Olay Body Wash, or Ivory product coupon from the last edition of the Brandsaver insert and get free soap. There is also the coupon for $2.50 off when you buy two that you can use.
Crest toothpaste 100ml is also on sale for $1. Use your Brandsaver coupon for $2 off when you buy two Crest toothpaste or rinse products, and get the toothpaste for free as well.
Just a note is yo are price matching the toothpaste, Walmart tends to carry the 100ml size, as does Real Canadian Superstore, however, Target does not.