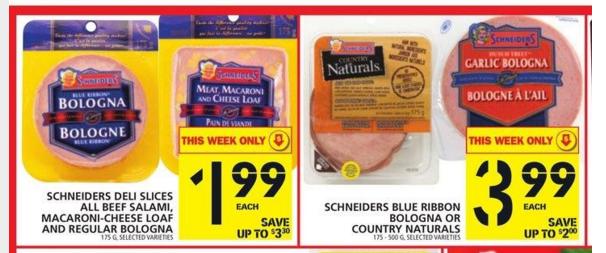 Here is an item that can be picked up for free this week using your coupons from the $15 Maple Leaf booklet, at Food Basics Ontario, From March the 3th to the 9th, the Schneiders Blue Ribbon Bologna, 175, is on sale for $1.99. Use your coupon from the booklet for $2.50 and get free bologna.
You may also be permitted to use the coupon for free Maple Leaf Ready Crisp bacon or Prime stuffed chicken when you purchase three Schneiders products, if you purchase three packages of the bologna with coupons. Food Basics does not give overage with coupons, so if you are looking to get that 51 cents overage per package, you may have to head to Walmart to price match the bologna. Keep in mind though, that Food Basics carries the Prime stuffed chicken, while Walmart does not, so if you want to use the buy three get one free coupon on the Prime chicken, you should get this deal at Food Basics.
Click here to view the Food Basics Ontario flyer,valid March the 3rd to the 9th.