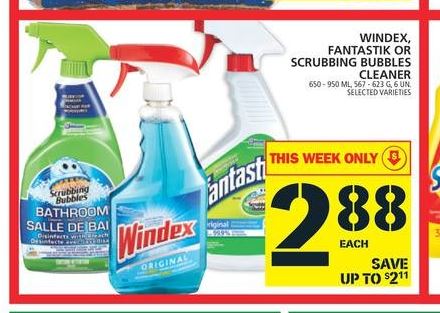 If you live near a Food Basics store or can price-match their flyer at Walmart, be sure to pick up a Scrubbing Bubbles cleaning product this week as you can make over $2 back with your purchase.
Food Basics is advertising Scrubbing Bubbles products for just $2.88 this week, below the $3 sale price we have seen in recent weeks.  There was a recent SmartSource coupon insert had a coupon for $3 off the purchase of any Scrubbing Bubbles Bathroom Cleaner aerosol or trigger product as well as multiple BOGO and $1.50 coupons.  Use your $3 coupon to pick up one for free.  If you shop at Walmart, many stores will apply the full value of the coupon to the rest of your purchases.
Then "checkout" your rebate apps to find another $2 back when you purchase select Scrubbing Bubbles products.  The bathroom cleaner shown in the Food Basics flyer is included so even if you do not have coupons, you get one for just $0.88.  If you do have the coupon, you will make money on this deal.
Click here to view the full Food Basics flyer