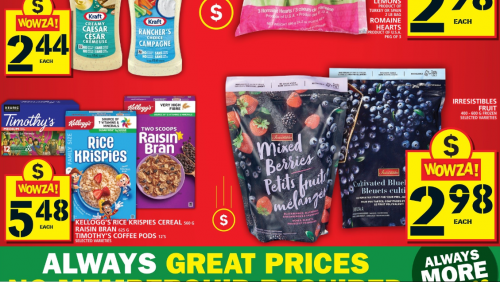 This week Food Basics Ontario has Kellogg's Rice Krispies 560g and Raisin Bran 625g advertised for $5.48 each. If you visit the Kellogg's Canada and WebSaver coupon portal you will find a $2 coupon for the Raisin Bran that you can use. Print the coupon and pay just $3.48 this week.
Food Basics and Metro have not been friendly with printable coupons for some time it seems, so it may be in your best interest to price match this at another store and use the coupon there. You also have the option of using the offer as cash back instead of printing a coupon. You can load the offer to your WebSaver wallet, make your purchase at Food Basics, and then upload your receipt. Either the printable coupon or the cash back offer may be used. Be careful not to combine them as you may lose your WebSaver account or any funds you have in your account.
You might notice that all of the cereal coupons from the Kellogg's portal are now for $2 off. Some of them have been increased from $1 values.
Click here to view this offer in the Food Basics Ontario flyer.
Click here to print your coupon for $2 off the purchase of Raisin Bran.