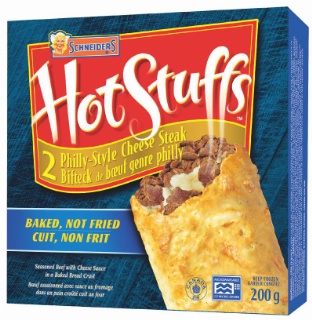 Here is a great use of your Maple Leaf booklet coupons this week at Food Basics Ontario.If you look closely at the flyer for this week, you will see that Schneiders Hot Stuffs are on sale for just 99 cents. If you are price matching, look for the picture of the Michelina's in the flyer. The text beneath says Hot Stuffs, but they are not pictured.
You probably know by now that inside the $15 Maple Leaf coupon booklet is a coupon for a free package of Ready Crisp bacon or Prime stuffed chicken when you purchase three select products, including Schneiders. If you purchase three of the Hot Stuff for 99 cents each, or a total of $2.97, you can use your buy three get one free coupon and get four products for this price!
Just a note if you are price matching and intent to use the coupon on the Prime stuffed chicken. Many people have now mentioned that it appears that Walmart does not carry the chicken, so if you would prefer the stuffed chicken over the bacon as your free product, you will probably be better off going to Food Basics.
Click here to view the Food Basics Ontario flyer, valid until February the 24th, 2016.