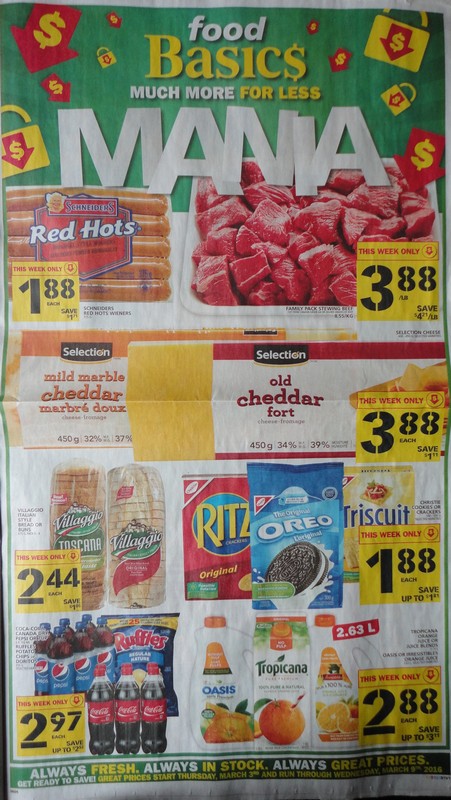 We all want to know the best way to use those fabulous Maple Leaf and Schneiders coupons from the booklets, and here is a great use for them at Food Basics Ontario from March the 3rd to the 9th.
The flyer shows Schneiders Red Hots on sale for $1.88. A couple of week ago, there were coupons available through a WebSaver portal for $1 off the purchase off the Schneiders Red Hots. That particular coupon is gone from the portal, so you will have to have already printed a few of them. Use three of those coupons, and get three packages of Red Hots for 88 cents each, and you can then use your coupon from the booklet for free Ready Crisp Bacon, or Prime Stuffed Chicken, and get all four products for just $2.64!
If you don't have the printable Red Hots coupons for $1 off, but you do have the buy three get one free coupon, these four items will cost you $5.64, which is still a great deal. You can price match this offer, but remember if it is the Prime Chicken you prefer over the Ready Crisp bacon, that many stores do not carry the chicken. Food Basics does carry the Prime Stuffed Chicken, so if you are in Ontario you may just want to purchase these items there.
Click here to view the Food Basics Ontario flyer valid March the 3rd to the 9th.