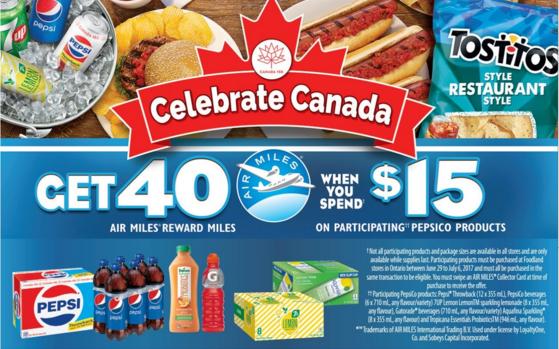 This week at Foodland Ontario, you can stock up on some summer beverages while collect some bonus Air Miles reward miles in the process. Until July the 6th, get 40 bonus Air Miles rewards miles when you spend $15 on participating Pepsico products. The list of participating products include:
Pepsi Throwback case of 12
Pepsico Beverages 6x710ml
7UP Lemon Lemon Sparkling Lemonade 8x355ml
Gatorade Beverages 710ml
Aquifina Sparkling 8x355ml any flavour
Tropicana Probiotica any flavour
The 40 bonus Air Miles should apply for every $15 spent, and depending on the amount of Air Miles that you have, you can also redeem and earn these bonus Air Miles back, paying little of nothing out of pocket.
Also, if you swipe your Air Miles card at Foodland, you will receive a coupon for fuel savings at Shell of up to 15 cents per litre, valid until the 3rd of August.
Click here to view the Foodland Ontario flyer.