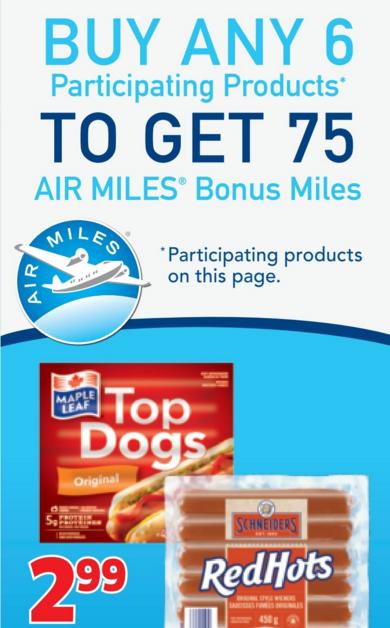 Here is a great offer for Air Miles collectors who happen to live near a Foodland Ontario. In the flyer for this week, valid January the 13th to the 19th, there is an offer of 75 bonus Air Miles reward miles when you purchase six of the pictured participating Maple Leaf and Schneiders products.
The featured products for this offer include:
Schneiders Breakfast Sausage Rounds or Links
Schneiders Red Hots or Maple Leaf Top Dogs
Schneiders Ham & Cheese or Broccoli & Cheese Stuffed Chicken
Schneiders Mini Sizzler, Oktoberfest Sausages, or Steakettes
Schneiders Olde Fashioned Hams, or Maple Leaf Country Kitchen Smoked Hams
Schneiders Deli Old Fashioned Ham or Honey Ham
Schneiders Lunchmate Stackers, Kits, or Simply Lunch
The deli meat is $1.99/100g, which is the lowest priced item, followed by the Lunchmates at $2.49, and the hot dogs and Mini Sizzlers, etc., at $2.99. The 75 Air Miles are worth nearly $7.50 in cash miles so a great way to boost your account balance.
Click here to view this offer in the Foodland Ontario flyer.