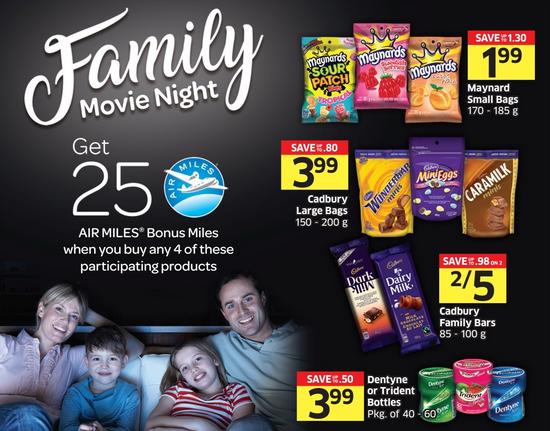 Who doesn't love a good deal on chocolate? If you are partial to both chocolate an Air Miles then here is a great offer at Foodland Ontario this week. Until November the 23rd, get 25 bonus Air Miles reward miles when you purchase any four participating products, including Maynards small bags of candy for $1.99, Cadbury Large bags of chocolate for $3.99, Cadbury family bars at 2/$5, and Dentyne or Trident bottles for $3.99.
If you are aware of the Air Miles Shop The Block promotion this is currently on until December the 14th, then you may know there is a coupon for bonus Air Miles when you purchase Cadbury family bars at Foodland. Use the Shop The Block coupon and you will receive 20 bonus Airmiles when you purchase three of these bars, and combine that with the in store offer of 25 bonus Air Miles when you buy 4 bars. In short, purchase four bars for $10 in total, and get 45 bonus Air Miles, worth roughly $4.50. This will also cross off one of your offers required for the Shop The Block promotion.
Click here to view this offer in the Foodland Ontario flyer.
'Click here to print the Shop The Block coupon.