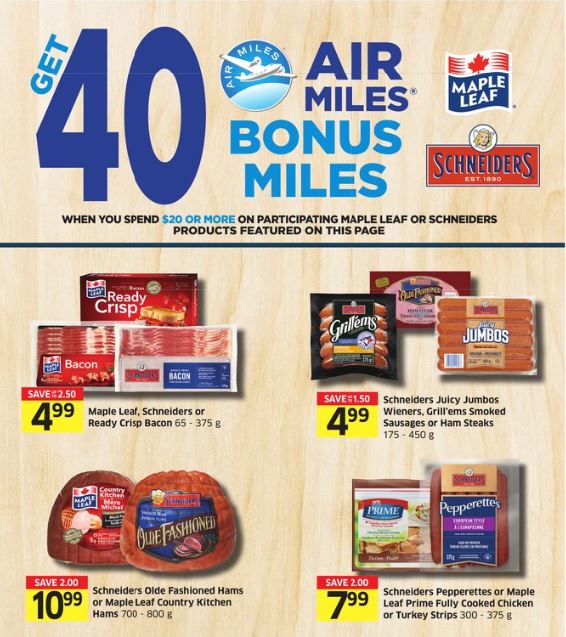 Foodland doesn't always have the greatest prices but their bonus Air Miles deals can sweeten the deal a little.  Starting this week, their flyers start on Thursday so shop early for the best selection on this Maple Leaf deal.  Get 40 Air Miles (worth around $4.20) when you spend $20 or more on select Maple Leaf or Schneiders products.
Don't forget that you can also redeem just 75 Air Miles for $10 this weekend too.  Participating products for this bonus Air Miles offer are:
Maple Leaf, Schneiders or Ready Crisp Bacon $4.99
Schneiders Juicy Jumbos, Wieners, Grill'Ems, Smoked Sausage or Ham Steaks $4.99
Maple Leaf or Schneiders Hams $10.99
Schneiders Pepperettes $7.99
Maple Leaf Fully Cooked Chicken or Turkey Strips $7.99
Maple Leaf Prime frozen wings, nuggets, strips, bites or burgers $10.99
Schneiders Country Naturals Burgers $10.99
Maple Leaf Canadian Craft or Natural Selections Sliced Meats $5.99
Schneiders Blue Ribbon Bologna or Country Naturals Sliced Meats $4.99
Schneiders Lunch Mate Stackers, Kits or Simply Lunch 2 for $5
Maple Leaf Prime Chicken Breasts or Tenders $7.99
Schneiders Deli Served Smoked Honey Ham or Olde Fashioned Ham $1.99/100g
Maple Leaf Corned Beef Brisket $6.99/lb
See the flyer for this offer here.