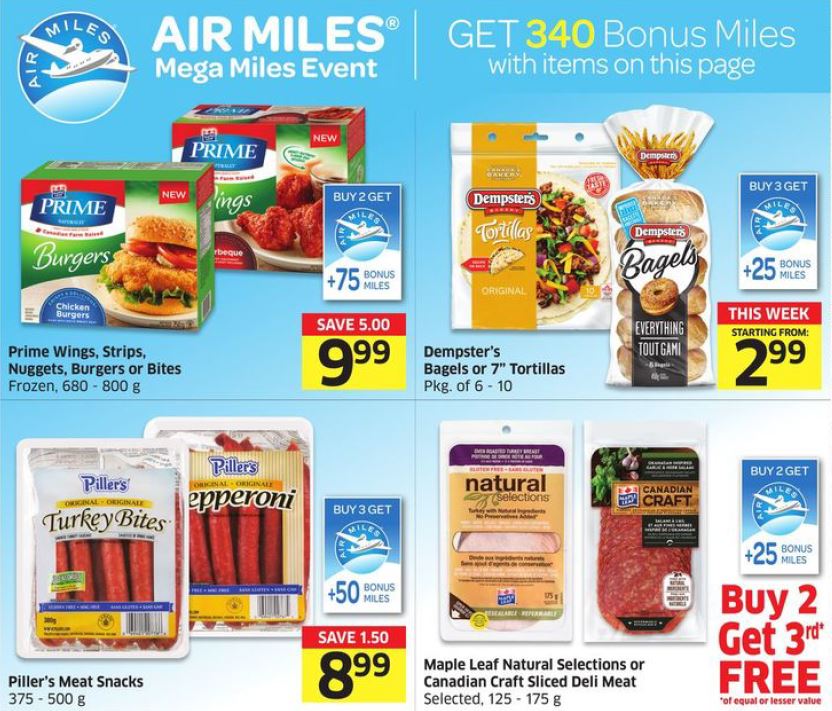 Air Miles promised many Air Miles bonus offers in an attempt to fix their reputation and it looks like this Foodland offer is one of the early ones.  Similar to the Blue Friday offers found in Western provinces, Foodland Ontario stores are offering mega Air Miles on multi buy purchases of select items this week.
Some of the better deals include
Heinz Beans or canned pasta $1.39 plus 25 Air Miles when you buy 3 (worth $2.63) for a cost of $1.54 or around $0.51 per can
Maple Leaf Natural Selections or Canadian Craft deli meats (these are often expensive at Foodland) buy 2 and get 25 Air Miles worth $2.63 plus a free pack.  During Shop The Block, I picked up the Canadian Craft products for $6.49 and $6.99 at Foodland so around $3.75 each after Air Miles and the free pack are awarded.
Maple Leaf Prime $9.99 each plus 75 Air Miles when you buy 2 for a cost of $6.05 per box
Dempsters bagels or tortillas $2.99 each plus 25 Air Miles when you buy 3 or $2.11 each
Kelloggs cereals $3.99 each plus 10 Air Miles when you buy 2 or $3.47 each
Of course, you can use any coupons to bring down the total further and don't forget to check GetMyOffers to see if you have Air Miles or cents off coupons to combine with these offers.
See the full Foodland flyer and all Mega Air Miles offers here