Forever 21 has just released their Pre-Black Friday sale on all your favourite Fall items. Save up to 50% on select Fall merchandise with this sale. This sale is on for a limited time only. Prices online reflect discount. Did you regret not getting that 'must have' sweater for Fall? Now's the perfect chance to get all those Fall 'must haves'.
This Ringer- T-Shirt Dress, elongated your favorite borrowed-from-the-boys ringer tee to create a dress that's equal parts casual, comfortable, and smart. This dress normally retails for $19.90, on sale now for just $9.95!

This Striped Knit Sweater, with a super soft knit construction, dropped long sleeves, and a loose fit, wearing this sweater is as comfy as wrapping yourself in your favorite blanket. It's a no-brainer for those chilly mornings when you're having an extra hard time waking up – toss this on and you can at least pretend you're still snug in your bed, while still looking sharp in its preppy stripes. Regularly priced at $23.90, is at a steal price for just $11.90 right now!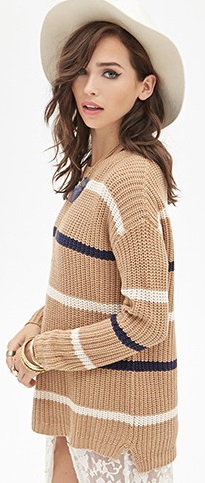 Forever 21 Canada offers free shipping on orders over $30.
Click here to start shopping Forever 21's Pre-Black Friday sale.