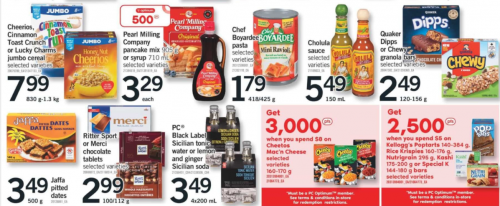 This week, Fortinos Ontario has a bonus PC Optimum points offer on several Kellogg's products, including Rice Krispies Squares. Until Wednesday this week, purchase two participating Kellogg's products and get 2,500 PC Optimum points. These products include Pop Tarts, Rice Krispies Squares, Nutrigrain Bars, Kashi Bars, and Special K Bars.
If you head over to the Kellogg's Canada printable coupon portal, you will see there is a coupon there for 50 cents off the purchase of Rice Krispies Squares. The Squares are $2.49 this week at Fortinos, and if you purchase two using two coupons you will pay $3.98 for both. After the value of the 2,500 points for purchasing two, you final cost will be 74 cents per box!
Click here to view this offer in the Fortinos Ontario flyer.
Click here to print your coupon for 50 cents off the purchase of Kellogg's Rice Krispies Squares.