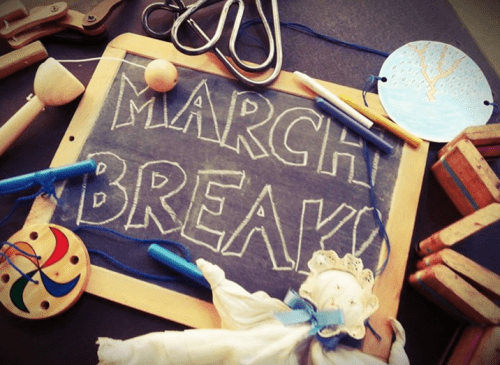 We've been posting a lot these past few weeks about free March Break events going on around the country, and while some of them might be wrapping up, a lot of them are just starting this week. So we thought it'd be best to curate a mega-list of sorts of the various events and activities being offered by retailers and businesses throughout the country.
Indigo Chapters Canada
We made a fuller post that goes into full detail about the different days and events going on at Indigo Chapters Canada, but you can expect more than just reading activities (though there will be a day dedicated to Dr. Seuss!)
The events will run every day, from Monday to Friday, with a new craft or activity planned to run. The exact dates will vary depending on your province though.
IKEA Canada
IKEA Canada's March Break events were written about a couple of days ago, but we thought it'd be a good idea to remind you that the free events will begin March 13th (tomorrow) and will end on March 19th.
You can click here to find your local IKEA to see what they'll be offering for your kiddies.
Public Libraries
We made a full and detailed post about all of the funtivities being offered by the Toronto Public Library, but if you don't live in the GTA, it's still worth your while to check out what your local public library is offering for March Break.
…comment if we missed activities going on at your public library!
Cineplex Canada
Cineplex Canada offers $2.99 matinee movies every Saturday, but for the month of March, as we posted about a couple of weeks ago, they'll be applying that offer to weekday matinee shows of select movies for your province's March Break week.
You can check out when the specific times of movies will be offered, depending on your province.
Toys R Us Canada
Toys R Us Canada has been hosting events all through March for families and their kids, but be sure to check out this week's lineup of events if you're kids are on March Break. You can learn more about the specifics of the events being offered here, but you can expect to find free giveaways, LEGO and Play Doh events and much more!
Mastermind Toys Canada
Depending on the province you're living in, Mastermind Toys Canada will be running free events either this week, March 13-17 (Ontario and B.C.), or next week, March 27-31 (Alberta, Regina and Manitoba).
You can expect to find a number of fun events, but here are just some of the better ones that they're offering:
room decoration with pin boards,
Melissa and Doug mess-free glitter stickers event
create your own plush toy
Learn more about the events happening at Mastermind near you here.
If we missed a fun and free event happening near you that you think should be added to the list, please let us know and we'll be sure to add it to the ever growing list of fun, free March madness!