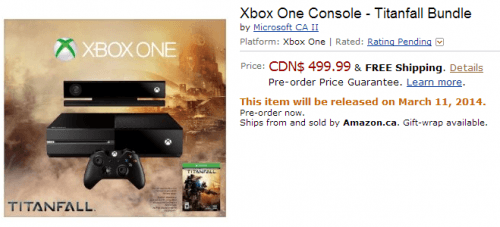 If you have been wanting to purchase an XBOX One, now is a great time! Purchase an XBOX One Console Bundle from Amazon.ca or Microsoft Store online and you will receive the Titanfall for absolutely FREE! Pre-order now, this bundle might not last long at either online store.
You will be paying the same price of $499.99 for the XBOX One Titanfall Bundle and the regular XBOX One Console Bundle without the game, thus you will be receiving the Titanfall game for FREE!
Microsoft Store will release this bundle on March 10th, 2014 while Amazon will release this bundle on March 11th 2014. You will enjoy FREE Standard Shipping as well.
Titanfall is the game that everyone has been excited about for the XBOX One. It will retail for around $60 once it is released. It does require an internet connect and Xbox Live Gold Membership to play.
Click here to get the XBOX One Titanfall Bundle from Amazon.ca for only $499.99
Click here to get the XBOX One Titanfall Bundle from Microsoft Store for only $499.99