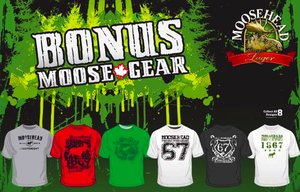 Get your FREE MOOSEHEAD Lager Tshirt inside 24 Packs of MOOSEHEAD Bottled Lager! They are giving these away as a way of saying thank you to their loyal MOOSEHEAD Lager drinkers since they started way back in 1867!
For "no purchase necessary" information on any Moosehead Lager contest or promotion, please send a self-addressed stamped envelope to:
Moosehead Breweries Limited
No Purchase Necessary – (with the name of the promotion)
P.O. Box 3100, 89 Main St. West,
Saint John, New Brunswick, Canada E2M 3H2
Thanks to shawnsgal for sharing this offer with us!