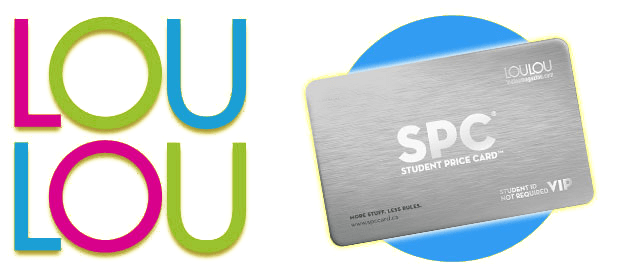 For those of you who have been on SmartCanucks for some time, you may remember the amazing deals we used to get with the VIP card from SPC.  You get all of those student discounts and no student ID required.
Back then, the VIP SPC card was one of the "it cards" to have, we saved 10% on Zellers and picked up groceries there for cheap, plus could use coupons and get HBC points.  While we do not have Zellers to save at, there are still some great deals with the SPC card
10% off regular priced merchandise at Rexall
10% off regular priced merchandise at The Source
10% off at The Body Shop
10% – 15% off at many restaurants/fast food outlets including Boston Pizza, Coffee Culture, Jack Astors, Manchu Wok
Many upsize or special offers at other restuarants such as a free upsize at Kernels popcorn, or free small fries and small soft drink when you buy a Big Mac or McChicken sandwich at McDonalds
10% off at many clothing and shoe stores including Old Navy, Aldo, Payless, Suzy and Sirens
and many more, check out the full list here
Get your free VIP SPC Card valid until July 31st 2016 when you subscribe to LouLou magazine now.  Choose between a digital subscription for $12.99 or mailed copies for $16.99 (plus taxes) – use the tabs at the top of the page to change to print if you prefer.  This offer is valid through December, but VIP SPC used to be very popular and they would sell out of the limited VIP cards well before the offer end date, so act now if you want one!  Your card will be mailed to you within 6 weeks for both print and mail subscriptions.