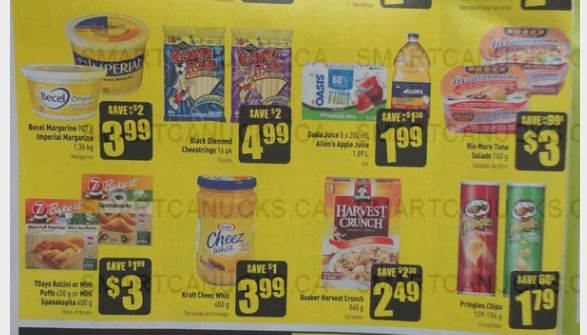 If you don't purchase juice boxes for your children/children, and instead use refillable containers, you may be looking for a deal on juice, and here is a great one at Freshco Ontario this week.
The Allen's 1.89L apple juice is on sale for $1.99 this week at Freshco, and there just so happens to be a coupon available through GoCoupons.ca for $1 off the purchase of the 35% less sugar variety. If you print and use this coupon that can be found through the link below, then you will pay just 99 cents for 1.89L of juice.
GoCoupons.ca gave me nothing but issues though, so if you haven't printed from there in a while then I wish you luck. I had to change my forgotten password, which I did, but then still couldn't log in. I made a new account, and never received a verification email, but I was able to print the coupon anyway, however, there is no picture on the coupon that printed, which makes it look 100% NOT legit. A second attempt to print from another account, in a different browser even, was unsuccessful as it told me I had already printed the coupon. Hopefully you have a better experience!
Click here to view this offer in the Freshco Ontario flyer.
Click here to print your coupon for $1 off the purchase of Allen's 35% Less Sugar apple juice.