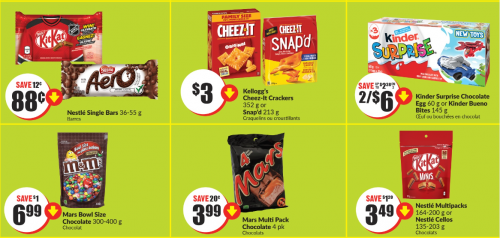 It's usually fairly easy to get the regular size box of Cheez-Its  for $1 using a coupon, but this week it's the family size box that you can get for $1 with this deal at Freshco Ontario!
This week, Freshco Ontario has the family size box of Cheez-It crackers advertised for $3. A new printable coupon has recently been added to the Kellogg's/WebSaver printable coupon portal that will save you $2 off the purchase of the family size box of Cheez-Its, and with this coupon you will pay just $1 this week at Freshco.
There is also a printable coupon for $1 off the Cheez-It Snap'd, which is also advertised for $3 this week. Use this coupon and the Snap'd are just $2. If you would prefer to have the coupons mailed to you they won't come in time for this sale but you will have them for the next time around.
Click here to view this offer in the Freshco Ontario flyer.
Click here to get your coupons from the Kellogg's/WebSaver coupon portal.