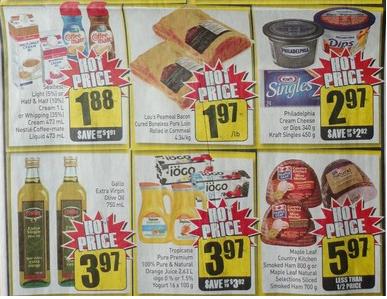 Here is your last chance to get a great deal on the ham you may need for Easter dinner, or you can just take this opportunity to stock up on meat for the freezer with this great deal at Freshco Ontario. Beginning March the 24th, Freshco Ontario has the Maple Leaf Country Kitchen Hams on sale for the price of $5.97. Use the coupon for $2.50 from the Maple Leaf booklet that I am sure you are all familiar with by now, and pay just $3.47 per ham with each coupon.
There is no limit shown in the flyer so stock up as you wish! Once again, the coupon come from booklets containing high value coupons for Schneiders and Maple Leaf coupons, and have been found on Ready Crisp bacon, and Prime stuffed chicken packaging.
Click here to view the Freshco Ontario flyer, valid from March the 24th to March the 30th.