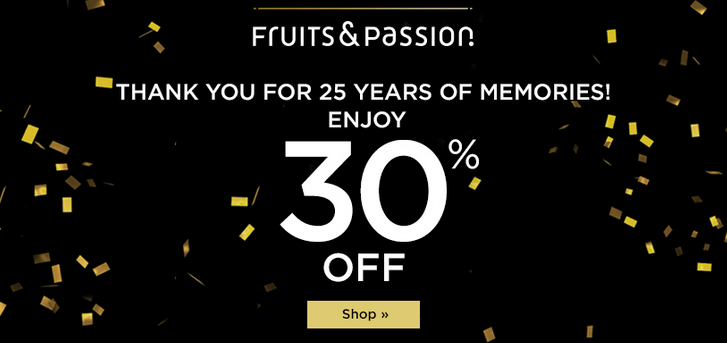 Fruits & Passion Canada is offering some awesome deals, just in time for Mother's Day this weekend! Spoil your mom this year, without evicting all the cash from your wallet. Shop online now to save 30% off all regular-priced items! Save big on all your favourites, and gift the best scents and skincare to the deserving mom in your life. Simply use the promo code HAPPY25 to start saving big in celebration of Mom and the 25th anniversary of Fruits & Passion! Offer excludes gift sets and belif products. Offer available for a limited time only, until May 15, 2017. Plus, save up to 65% off sale items! Offer available while supplies last.
This Indulgent Body Wash features a soft floral freesia and bergamot scent to spice up your shower time with something new. The fruity mix adds a touch of light freshness to the heavier floral notes in a truly complementary blend. The body wash is as kind on the skin as it is on your nose! Get yours now to start your newly relaxing cleansing ritual or add it onto your gift for Mom this mother's day! Whatever you choose, this body wash was originally priced at $12.50 and you can get it on sale now for 60% off to spend just $5! Keep filling that cart to save more and qualify for FREE shipping!
Fruits & Passion offers FREE shipping on every $45+ order!