Fruits & Passion Canada is offering some awesome savings during the online only VIP Sale! Shop online now to save 40% off heaps of skincare items from hand cream and hand soap to cosmetics and fragrances — Fruits & Passion has something for everyone. Plus, you'll get a FREE burlap tote bag with any purchase of $55 or more! Simply use the promo code VIP16 at checkout to take advantage of all these amazing deals! Stock up on bestselling body care products while the prices are at an all-time low! Offer valid until April 23 2017 only.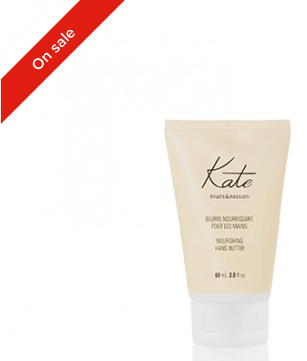 This Kate Nourishing Hand Butter features a fresh summery scent reminiscent of the airy, sunny days of summer. Designed with fun tropics in mind, this scent combines fruity notes with subtle touches of jasmine and musk for a fragrance as light as the summer breeze. Nourish your hands and the natural magic of four olive tree extracts to restore moisture to dry, even cracked hands with a non-greasy finish. Originally priced at $12.50, you can get it on sale today for 40% off to spend just $7.50!
Fruits & Passion offers FREE shipping on all $55+ orders!