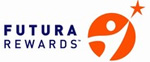 First of all I'd like to mention that I contacted Futura / KidsFutures and asked for a sign up bonus for SmartCanucks.ca and they were very pleasant and friendly people. Thank you Graham and Antonella for your brilliant service! I anticipate a shining future for Futura 🙂
I strongly encourage all parents to take this program seriously. It can help save a lot of money for your child. Julieonmymind, the Canadian Parents forum moderator, posted some very informative info to get you started with Futura Rewards and since I'm too lazy I'll just copy and paste her post ;-). Thanks Julieonmymind!
Our bonus code (to get $10) when you sign up for a Futura Account is: CANUCKS10

Futura is an expanded version of what used to be called Kidsfutures, with this program you're able to purchase everyday products and services from Futura partners and save for RESPs, RRSPs or pay off student loans!

The link for the Futura website is: www.futurarewards.ca

For every dollar you save with Futura, its equal to $1 Canadian!
To sign up or to ask a Futura Representative questions call: 1-866-728-3454
(Remember to give your SmartCanucks Bonus Code CANUCKS10 when you call)

Frequently Asked Questions:

How does it work?
Collect barcodes from everyday products. Send in your barcodes or receipts with your tally chart every three months and watch the savings add up. You can also shop at participating local or online retailers to get more in savings.

How much does it cost?
Joining Futura is FREE! (And you get a $10 sign up bonus if you use the SmartCanucks code)

Can I have more than 1 Futura Account?
You can only have one account per person, but your relatives and friends over the age of 18 can have an account and have it linked to your account.

How do I link different Futura Accounts?
All you have to do is call Futura at 1-866-728-3454 and ask them to link the accounts. You'll be asked for all the account info.

Do I have to get the KidsFutures MasterCard to collect Futura points?
No, you don't have to get the KidsFutures Mastercard. If you do, you can save up to an additional 2% in rewards on all purchases you make with the card.

You'll be able to collect Futura rewards without the mastercard by collecting barcodes and shopping at local or online partner companies.