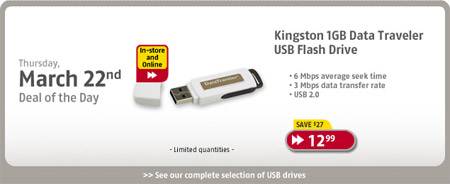 Just when I had lost all hope in Future Shop's marketing team, they come up with a pretty decent deal on the last days of deals. Today's deal is the Kingston 1GB Data Traveler USB Flash Drive (DTI-1GBCR) for $39.99 $12.99.
Pros:
– $12.99 is a good price for a 1GB USB flash drive.
– This is a high quality and reliable device. When it comes to storing data this is one of the most important features to look for. You don't want to store a presentation on the device to find that it has malfunctioned right before you start your presentation!
– 1GB is large enough to store a bunch of mp3s or even a movie file 🙂
Cons:
– Future Shop now charges shipping. Make sure the shipping isn't too large to ruin the deal. Shouldn't be a problem for most provinces.
– It's not a very fast device. This shouldn't be a problem for the regular user. Unless your time is ultra-precious (but then you shouldn't be reading this in the first place ;-)), don't worry about it.
– Not very easy to attach to your key chain (small slot).
– The white looks ugly.
– Cover may get lost if you don't handle it with care.
All the cons are really minor and I'm personally buying one of these.