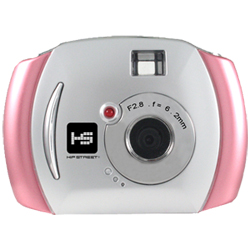 Yoshidoki spotted this awesome deal at Futureshop.  Buy a kids digital camera for $14.99   then you have the option of adding a Canon Pixma all in one printer for $19.99(retail $49.98) .  Add your free Kodak photo book (retail of $34.99) making the bundle only $34.98 plus tax and disposal fees. If you don't want the printer you could just add the camera and receive the free photo book for $14.99.  One thing I did notice is that you have to add the side deals manually, so make sure you add the printer and the Kodak photobook by clicking on each offer and "add to cart".  Remember shipping is free over $20.
If your interested in this deal hurry as stock is very limited. At time of publishing there is 12 pink and 1 blue left in stock.
Click here for more information posted by Yokidoshi in our Tech section on the forum.
***SOLD OUT****