Today is Future Shop's 6th day of its 10 days of web only deals. Another good deal today: Kingston 1GB Secure Digital Card for $24.99 after $25.00 discount and $40.00 mail in rebate (regular price $89.99).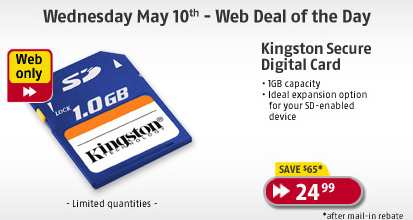 If you have a digital camera that uses SD cards or any electronic device that uses SD cards this is a good deal. I don't really like the mail-in rebate part though and if you do decide to buy this product make sure you get your $40 rebate!
Note that these cards are NOT for Sony digital cameras or Sony PSPs. Please make sure the device you have uses SD and not any other technology before ordering this card.
Check out the Kingston 1GB Secure Digital Card here.