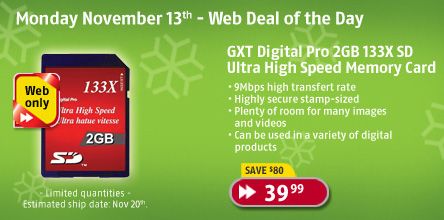 Today's deal is a GXT Digital Pro 2GB 133X SD Ultra High Speed Memory Card for $119.99 $39.99.
Why does Future Shop keep promoting low quality brands? This is an excellent price for this card but GXT is by no means a trust-worthy brand. Don't be shocked if this card malfunctions causing loss of data.
The bottom line: great deal if you'll use the SD card to store non-critical data (or data where you have a backup copy somewhere else). But if you'll use it in your camera, think twice.
Buy the GXT Digital Pro 2GB 133X SD Ultra High Speed Memory Card here