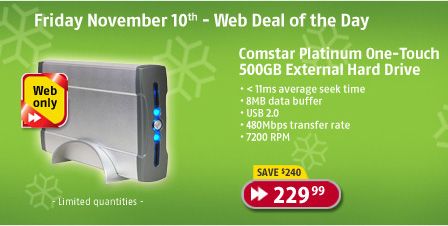 Future Shop is having a 6 days of web deals event. Hopefully these days of deals will be better than their previous one.
Today's deal is the Comstar Platinum One-Touch 500GB External Hard Drive for $469.99 $229.99.
External hard drives are a very convenient way to transport large amounts of data, music and video. This Future Shop deal is good but nothing more. Comstar manufactures mediocre products and when it comes to a sensitive items like external hard drives I'd rather spend a few more bucks and buy a higher quality product. If however you're looking for the lowest price you could spend on a 500GB external hard drive then this is definitely the right deal for you.
Get this deal at Future Shop Online here