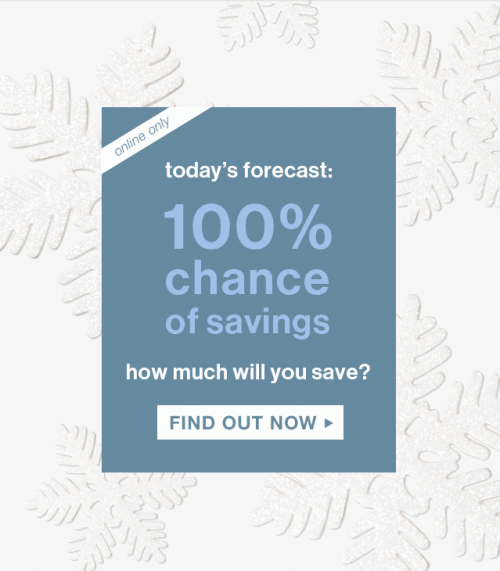 While Cyber Monday and Black Friday may be behind us by only one short day, the savings at Gap Canada continue to push through so as to keep you saving well into the holidays. The first deal that Gap is offering is an exclusive online promo code, where when you enter, GAPDEAL, at the check out you will receive 35% off your order.
This promo code will only be valid online until December 3rd at 11:59pm EST, and you won't be able to use it on any of the following merchandise:
finale sale items,
Jeans, Cords, and Premium Pants,
Leather, Suede and Cashmere
Accessories and Shoes
Kid's, Baby & Toddler Sleepwear,
Baby Organics Collection,
First Favorites, Gap x GQ, Junk Food, and Umbro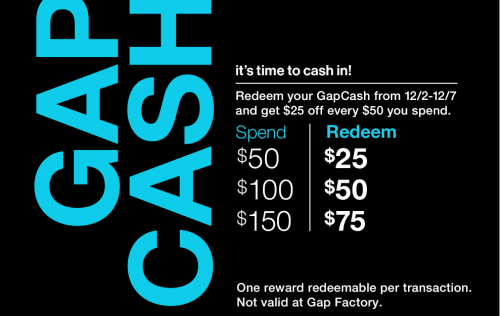 In addition to this 24 hour promo code, Gap will be giving you a chance to cash in on your GapCash that you earned back in November. The participating days that you'll be able to do this in-stores only is from December 2nd- 7th. In this program, Gap will have given you an amount of GapCash proportionate to the amount of money you had spent in-store back in Novemeber.
The GapCash brackets break down to look like this:
when you spend $50 or more, you will get $25 back in GapCash
when you spend $100 or more, you will get $50 back in GapCash
when you spend $150 or more, you will get $75 back in GapCash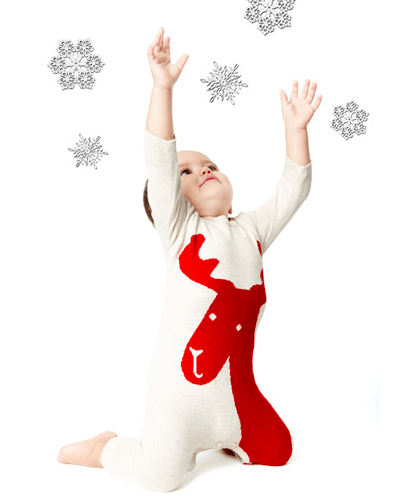 When you spend between $50-$99.99 you will get the $25 in GapCash, and the remaining value will be forfeited. Also, there is no limit to the number of GapCash coupons you can cash in on during this program period, but you may only redeem one coupon at a time when purchasing your Gap merchandise; meaning the maximum amount you will be able to get off on one purchase is $75.
The GapCash coupons period will end on December 7th and remember that they are only valid in-store.
Click here to begin shopping online at Gap Canada,