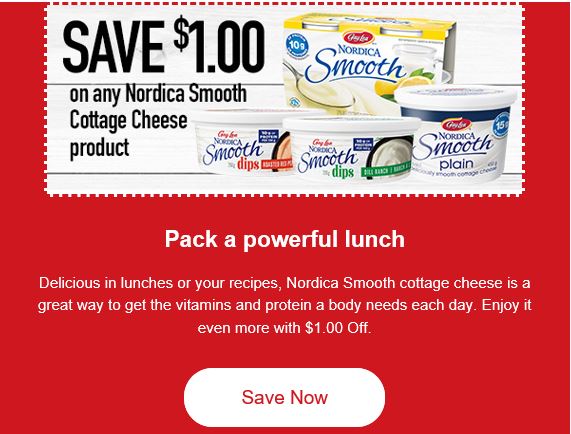 Gay Lea Canada has sent out their latest monthly email newsletter, and you can check your inboxes for this latest edition of Plated. The newsletter does contain a link to printable coupon again this month, so make sure you don't delete the email before printing your coupon.
This time around, the coupon is for $1 off the purchase of any Nordica cottage cheese products, including new Nordica Smooth dips. The link in the email is unique to the recipient, so you must have received the email in order to print the coupon. If you are not already signed up for the newsletter, then sadly you will have to sit this one out, but you can ensure that you receive it next month by signing up now through the link below.
If you would like to use the coupon on the new Nordica Smooth dips, they can be found on sale at Sobeys Ontario this week for $2.99.
Click here to sign up to receive the Gay Lea Plated email newsletter.