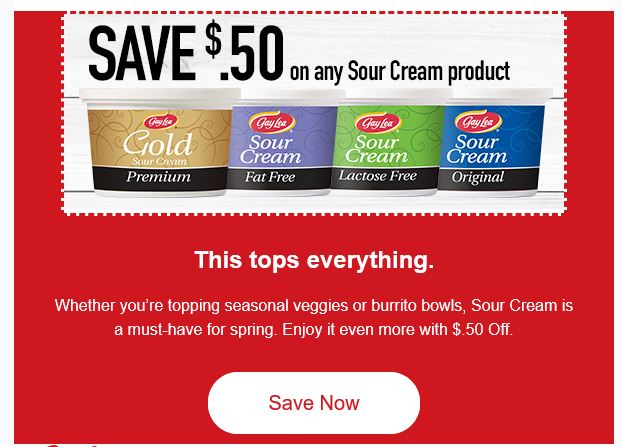 Those of you signed up for the Gay Lea Canada Plated email newsletter can expect to find the latest edition in your inboxes. The added bonus of a monthly printable coupon in the newsletter continues this month, and you can print this month's coupon which is for 50 cents off the purchase of any Gay Lea Sour Cream product.
You must be a recipient of the email in order to print the coupon, as it must be printed from the original and unique link in the newsletter. If you are not signed up, take a moment to register through the link below, so as not to miss out on the coupon next month!
This week the lowest price I see advertised for Gay Lea sour cream is $2.99 for the larger tub at Metro so you may want to hang on to the coupon for the moment. Quite often the smaller tubs go on sale for 99 cents, and would be just 49 cents with the coupon.
Click here to sign up for the Gay Lea Plated email newsletter.