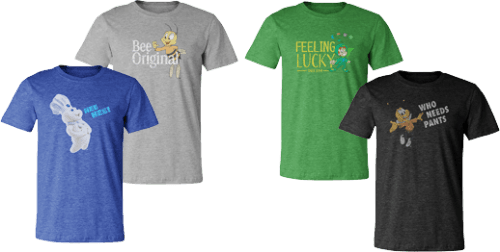 General Mills Canada wants you to wear your favourite cereal brand with pride, and what better way to display said favourite than by donning a cheeky and colourful free graphic tee? Right now when you purchase specially marked packages of General Mills cereal you will be able to cut out a PIN found on the inside of the box that will enable you to receive a free t-shirt with one of four of your favourite cereal characters on the front.

The General Mills cereal that you will have to choose from includes:
Cheerios (400g)
Honey Nut Cheerios (460g)
Multi-Grain Cheerios (390g)
Lucky Charms (330g)
Oatmeal Crisp Maple Nut (460g)
Oatmeal Crisp Almond (475g)
Oatmeal Crisp Triple Berry (425g)
Reese Puffs (365g)
Cinnamon Toast Crunch (360g)
French Toast Crunch (380g)
Honey Nut Cheerios Hearty Oat Crunch (430g)
and Nesquik (340g)
You will have to enter your PIN on this website, after which you will be prompted to request your style and size along with your mailing address so that the t-shirt can be delivered to your home. There will be a limit of 4 t-shirts per household, meaning you'll be able to collect all four if you like, and the contest closes on July 31st.
Click here to enter your PIN for your free General Mills t-shirt online.