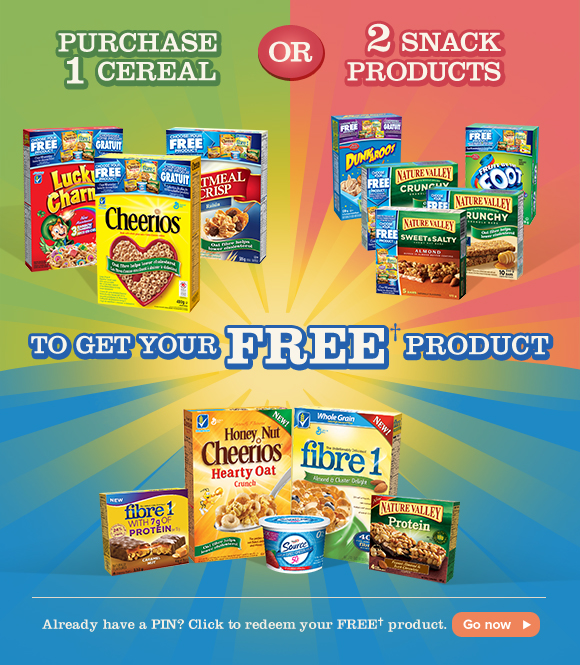 We let you know about this a while back, but the time has arrived that you can now redeem your PINS, and we have a list of the free products that you may redeem for.  Collect the PIN from 1 cereal product OR 2 snack products to redeem for your choice of  free product coupons, valued between $2.50 – $7.84. Choose from the following:
FPC Honey Nut Cheerios Hearty Oat Crunch 430g
FPC Fibre1 Almond Cluster Delight 450g
FPC Nature Valley Protein Bars, Peanut Almond & Dark Chocolate or Peanut Butter Dark Chocolate 148g
FPC Fibre1 bars with Protein, Caramel Nut or Peanut Butter 132g
FPC Golden Grahams Treats S'Mores 150g
FPC Cinnamon Toast Crunch Treats 120g
FPC Mott's Fruitsations + Veggie, assorted Berry Fruit Snacks 226g
FPC Yoplait Source Greek 650g or 4x100g
FPC Yoplait Source 650g or 4x100g
FPC Yoplait YOP 3x200mL
FPC Yoplait Tubes 8x60g
FPC Yoplait Minigo 6x60g
Free product coupons will be sent through Save.ca when you redeem your PINS here. The deadline to redeem PIN codes is November 30th, 2013.