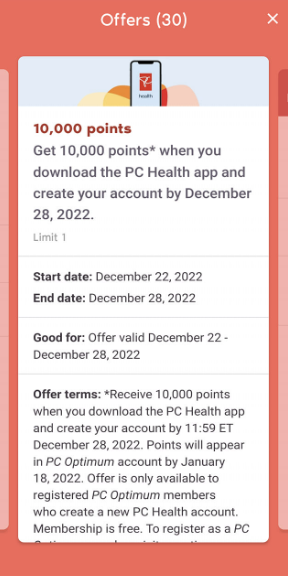 For those of you who have not yet signed up for the PC Optimum Health app, be sure to check your PC Optimum account for this offer. From December the 22nd to the 28th, get 10,000 PC Optimum points when you download the app and create your account.
The points should be awarded by January the 18th if you register. If you have the offer, I would take and keep a screenshot of it until that date just in case you haven't received the points by then. You can then contact customer service for your points. You will need to use a valid phone number when you register for the PC Health app, and it will need to be verified in order to create your account.
The PC Health App is available from the App Store and Google Play, and you can read more about the app through the link below. There are many useful things you can do with this app, like virtual chat with a registered nurse, or book a massage therapy appointment. It offers Health Programs, Prescription Refills, Flu Shot Appointments, and more.
Click here for more information and to download the PC Health app.