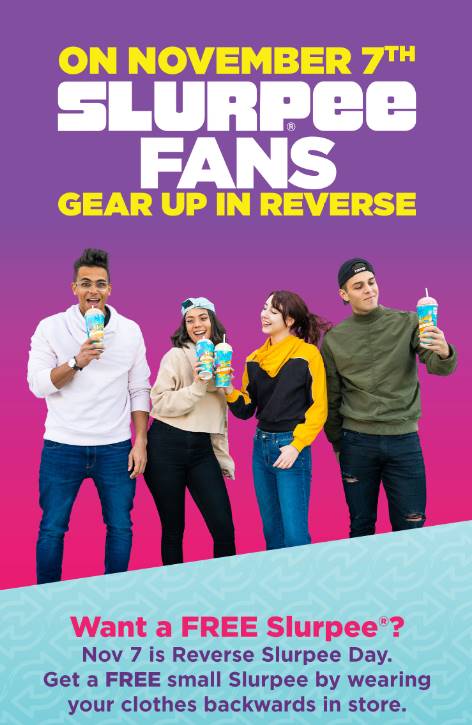 Want a FREE Slurpee from 7-Eleven Canada? Well you're in luck, because November 7th, 2022 is Reverse Slurpee Day. Get a free small Slurpee from any 7-Eleven Canada location by wearing your clothes backwards in store. One free Slurpee per order. But no one will know if you visit multiple locations 😉
So go ahead and wear your craziest outfits in reverse and get your free Slurpee from 7-Eleven Canada. Enjoy your sugary deliciousness.
Our birthday on July 11th or 7/11 was popular among our customers so we wanted to find another reason to celebrate our birthday again this year. We're bringing the party back with Reverse 7-Eleven Day on November 7th or 11/7. Slurpee fans love getting creative with our signature Slurpee events and we can't wait to see what reverse outfits they come up with this year.
Slurpee flavours include:
Black Cherry
MTN Dew® Blue Shock
Crush Cactus Catapult
Fanta Dragon Fruit
Blueberry Yuzu Lemonade
Frog Water Slurpee
MTN Dew®
Coca-Cola
Pepsi
Crush Grape
Dr. Pepper
Crush Lime
Mug Root Beer
Crush Orange
Fanta Blue Vanilla
Click here for FREE Slurpee from 7-Eleven Canada Promo