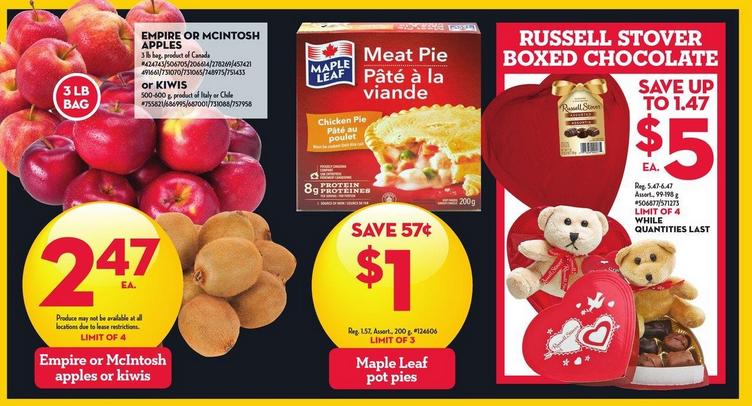 Here is a deal from Giant Tiger Canada that ends today, but if you are out and shopping anywhere that price matches, you can get this deal from whichever retailer that may be. Until the end of today, Giant Tiger Canada has Maple Leaf Meat Pies on sale for just $1. Surely by now you have heard about the coupon for free Ready Crisp Bacon or Prime Stuffed Chicken when you purchase three participating products, including Maple Leaf. Purchase three of the pies for $1 each for a total of $3, and use your coupon for the free product when you buy three of them, and get Ready Crisp bacon for free as well.
It doesn't appear that Giant Tiger carries the Prime Stuffed Chicken, so if you are shopping there you will be limited to the Ready Crisp Bacon. If you are price matching and shopping elsewhere, you may have the option of the stuffed chicken if it is carried at that retailer. If you have not yet found these coupons there are now two different versions to keep an eye out for. One is part of the booklet of coupons valued at $15 and found on Ready Crisp Bacon and Prime Stuffed Chicken. The other version is a separate tear pad coupon.
Click here to view the Giant Tiger Ontario flyer ending today, February the 16th, 2016.