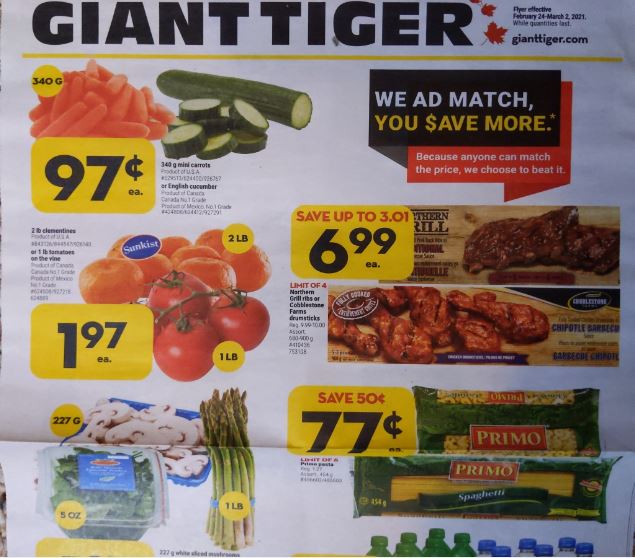 Giant Tiger Canada has a new flyer starting tomorrow, February the 24th, and we have a look at some of the deals that will be valid until March the 4th. Giant Tiger still price matches, so keep that in mind if there was anything else you wanted to pick up from another store while shopping. Here are some of the highlights from the flyer for this week:
Mini Carrots .97
English Cucumber .97
Northern Grill Ribs or Cobblestone Farms Drumsticks $6.99
2lbs Sunkist Clementine $1.97
1lb Tomatoes On The Vine $1.97
Primo Pasta .77
1lb Asparagus $1.97
Planters Dry Roasted Peanuts or Billy Bee Roasted Peanuts $1.99
Del Monte Canned Vegetables .88
Pepsi Soft Drinks 6pk $2.47
Classico Pasta Sauce $1.88
Johnsonville Breakfast Sausages $3.47
Cavendish Farms Potatoes $3.47
Brandt Kolbassa Sausage $3.47
Leadbetters Cowboy Burgers $5.99
Black Diamond Cheese Slices $2.47
Lactantia Cream Cheese $2.47
Melitta Ground Coffee $8.97
Lay's Stax 3/$4
Post Cereal $2.97
Tide Laundry Detergent or Downy Fabric Softener $4.47
Click here to view the flyer on our forum!