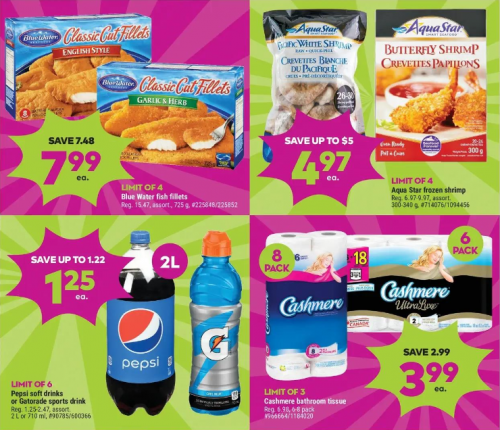 You may be focusing on Loblaws banners this week for shopping because of the Points Days offers, but there are some great deals at Giant Tiger as well, and if you are are shopping at No Frill or Real Canadian Superstore Ontario this week, there may be some items here that you can price match for those point offers! Here is a look at what's on sale at Giant Tiger starting today:
8lbs Fuji or Red Delicious Apples $6.88
8lbs Sunkist Oranges $6.88
750 Lean Ground Beef $5
1lb Strawberries Members Save $2 each (price not shown)
Blue Water Fish Fillets $7.99 (save $7.48)
Aqua Star Frozen Shrimp $5.97
Pepsi 2L Soft Drinks $1.25
Cashmere Bathroom Tissue 6=18 Rolls $3.99 (Use up the $1-$4 peelies expiring January 31st!)
Tassimo Coffee Pods $4.97
General Mills Cereal $4.87
Trophy Cashews $2.97
Clover Leaf Canned Salmon $1.97
Kellogg's Eggo Waffles or Burnbrae Egg Bakes Quiches $2.97
Carver's Choice Bacon $2.47
Black Diamond Cheese Bars $4.97
International Delight 946ml $3.97
Country Harvest Bagels $2.77
Philadelphia Cream Cheese $3.47
Scotties Facial Tissue or Sponge Towels 6pk $5.97
Click here to view the Giant Tiger Canada flyer for this week.