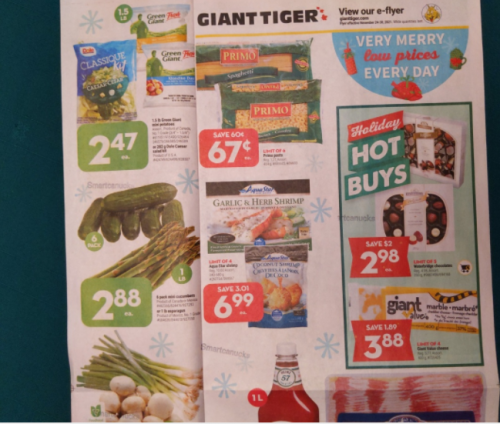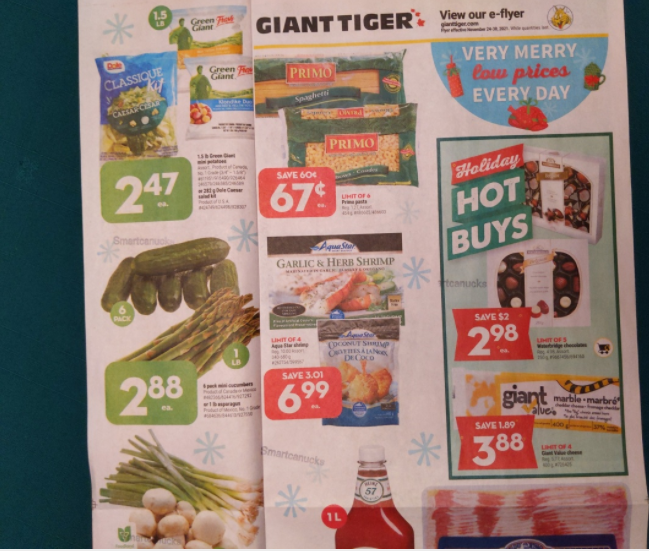 We have another sneak peek for you, and it is the Giant Tiger Canada flyer that starts tomorrow, November the 24th. It's not usually available online until the morning it starts, so you can use this sneak peek to decide whether or not there's anything you'll be heading there for tomorrow. Here are some of the advertised items for this week:
Primo Pasta .67
Giant Value Cheese Bars $3.88
1lb of Asparagus $2.88
Heinz Ketchup $3.47
Carver's Choice Bacon $2.47
ED Smith Triple Fruits Jam $2.47
D'Italiano Bread or Buns $1.97
Ben & Jerry's Ice Cream or Klondike Bars $3.97
Iogo Yogurt Tubs or Iogo Nano $1.97
Dr. Oetker Guiseppe Frozen Pizza $4.77
Piller's Meat Sticks $6.97
Voortman Cookies $1.87
Cheetos Mac & Cheese $1.77
Tim Hortons Canned Chili $2.77
Del Monte Canned Vegetables $1.27
Sponge Towels or Scotties Facial Tissue 6pk $4.97
Purex or Snuggles $4.97
McCain Pizza Pockets $9.97
Giant Tiger continues to price match, so if you find a lower price at another competitor you can take advantage of that policy.
Click here to view the flyer on our forum.