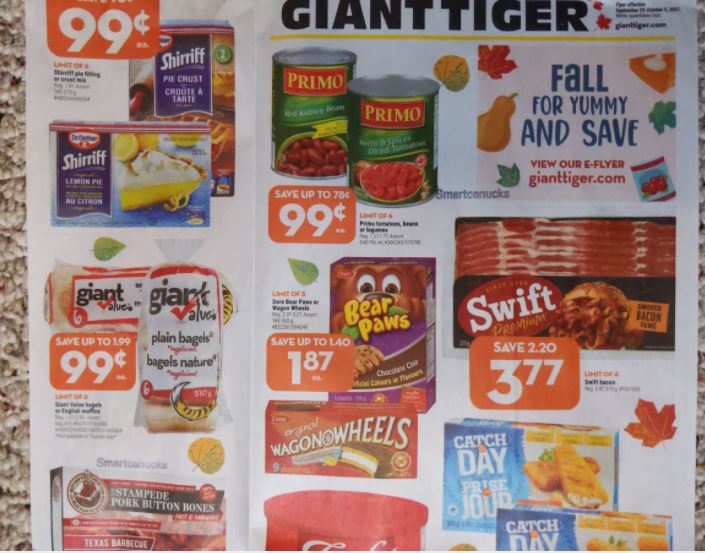 The newest Giant Tiger Canada flyer has started today, and there are plenty of great prices advertised this week. You are still able to price match at Giant Tiger, which might save you running to several different stores. Just make sure to verify with your location which store they will price match. Here are some of the items on sale until Tuesday of next week:
Shirriff Pie Crust or Pie Filling .99
Primo Canned Beans or Tomatoes .99
Giant Value English Muffins or Bagels .99
Dare Bear Paws or Wagon Wheels $1.87
Swift Bacon $3.77
Black Diamond Cheese $4.97
Trophy Cashews $1.97
High Liner Breaded Fish $2.97
Wong Wing Appetizers $3.99
 Dr. Oetker Ristorante Pizza $2.98
Hills Bros or Lavazza Ground Coffee $5.97
Kraft Parmesan Cheese $4.97
Cashmere Bathroom Tissue 8-16 Rolls $3.47
Ocean Spray Cranberries $1.87
10lbs White Potatoes $1.87
Iceberg Lettuce or Celery .97
Betty Crocker Mashed Potatoes or Hamburger Helper 2/$3
Stove Top Stuffing or Club House Gravy .97
Dole Bagged Salad or Coleslaw or Mushrooms $1.47
D'Italiano Bread or Buns $1.97
Click here to view the flyer on our forum.