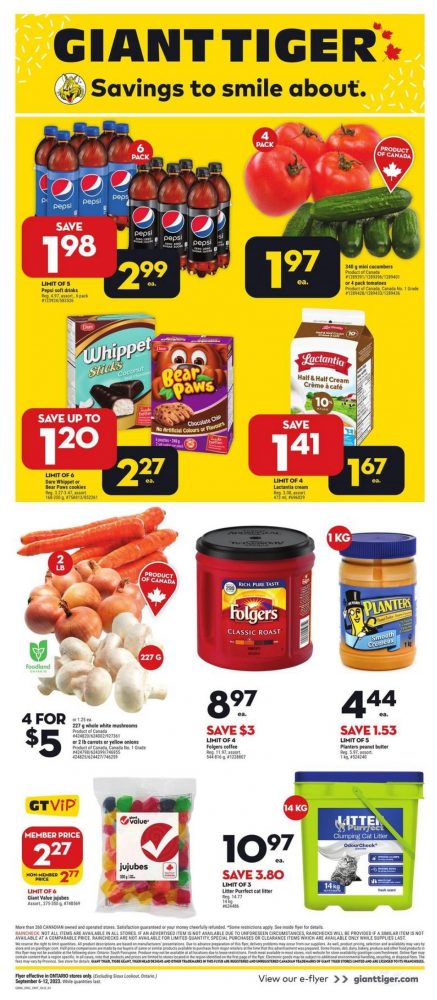 Giant Tiger Canada has low prices on all kinds of products this week, and if you'd prefer to shop at Giant Tiger over some of the other retailers, don't forget that you can price match other ads at GT. You can also join GT VIP for members only savings, special offers, and discounts. Here's what's advertised in the flyer at Giant Tiger Canada from September the 6th to the 12th:
6pk Pepsi Soft Drinks $1.98
340g Mini Cucumbers or 4pk Tomatoes $1.97
Dare Whippet or Bear Paws $2.27
Lactantia Cream 473ml $1.67
Planters Peanut Butter $4.44
Folgers Coffee $8.97
2lbs Carrots or Yellow Onions 4/$5
Giant Value Bread $1.97
Giant Value Cheese $4.97
Piller's Meat Sticks $7.97
Chapman's Markdale Creamery Ice Cream or Frozen Desserts $3.47
Aqua Star Frozen Salmon Fillets $5.97
The Laughing Cow or Babybel Cheese $3.47
Starbucks or Kicking Horse Coffee $8.97
Betty Crocker Fruit Snacks $2.97
Blue Water Frozen Fish Fillets $9.97
Wonder Hot Dog or Hamburger Buns $2.44 (member price)
Click here to take a look at this week's Giant Tiger Canada flyer.