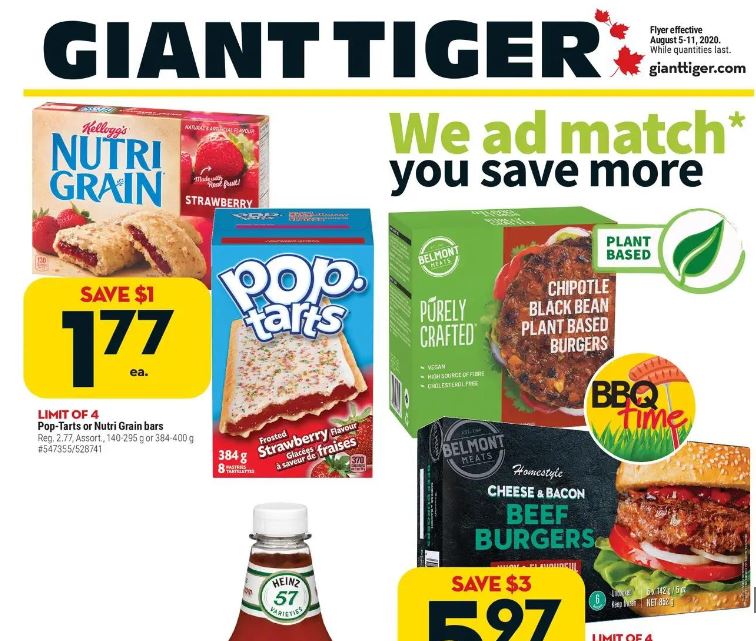 This week Giant Tiger Canada has Belmont burgers on sale for $5.97 until August the 11th. There are now numerous stores that carry these burgers, including Fortinos, Sobeys, Lococo's, and others, so you may have tried them. Giant Tiger always has the lowest sale price however, and they seem to have them on sale almost every other week. If you like these burgers then Giant Tiger is the best place to buy them on sale. Here's a look what's on sale this week:
Nutri-Grain Bars or Pop-Tarts $1.77
Belmont Burgers $5.97 (Plant based, Cheese & Bacon, and Homestyle varieties are on sale this week)
Heinz Ketchup 1L $2.97
Sugardale Bacon $3.47
Lay's, Doritos or Cheetos snacks 3/$8 (Use Tasty Rewards coupons)
Armstrong Processed Sliced Cheese $1.97
Delissio Singles or Thin Crust Pizza $2.97
Minute Maid Frozen Juices 50 cents
Cavendish Wedges or Onion Rings 1-1.8kg $5.99
Eggo Waffles or Pancakes $2.47
Swiss Chalet or St-Hubert Pies $7.97
Campbell's Soups $1.47
Snuggle Fabric Softener or Scent Booster $3.97
Persil Laundry Detergent $9.97
Dinner Sausages 600g $3.79
Smuckers Jam $1.97
Broccoli or Mini Carrots 340g 97 cents
High Liner Frozen Fish $6.97
Click here to view the flyer on our forum.